Anyone who has spent their holiday in or around Boston knows—it is full of spectacular holiday party venues. Many of the city's most artistic centers and renowned cultural institutions serve as an extravagant setting for a festive occasion. If you are looking to host your holiday party in the Boston area this season, treat your guests to a magical experience at one of these stunning venues.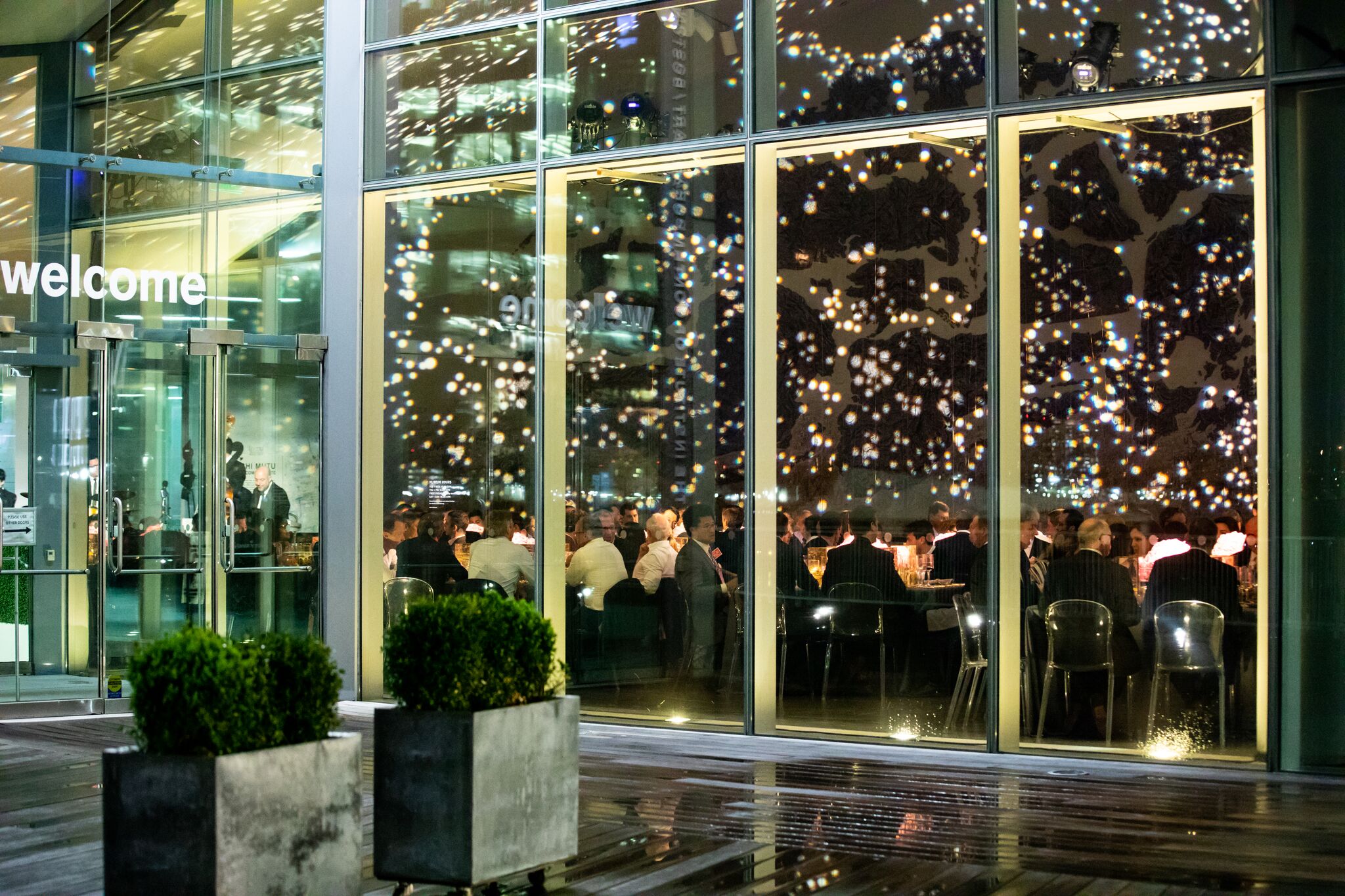 Institute of Contemporary Art/Boston
There is nothing quite like a holiday spent inside Boston's Institute of Contemporary Art. The Common Room offers an intimate space to experience a holiday gathering with your professional peers and business partners. You may even get to watch a snowfall on Boston Harbor while staying cozy indoors. The State Street Corporation Lobby and Barbara Lee Family Foundation Theater are also dramatic settings for a cocktail party or seated dinner. See a virtual tour of the spaces here. 
Love the idea of an elegant holiday event at the Institute of Contemporary Art/Boston? Inquire about a date!

Johnson Building at Boston Public Library
If you are looking for a way to lift spirits, you will love hosting your party at any one of the Boston Public Library's elegant spaces. The Johnson Building offers multiple settings that can fit any theme or holiday event.
Treat your guests to a night in Boylston Hall, which showcases an open, luminescent backdrop and plenty of space for them to enjoy seasonal food stations and design touches. It also has large digital screens available for any personalized presentation you want to share.
Plan the event of the season! Here's how to get started.

McKim Building at Boston Public Library
For every theme, specific holiday or style of dining, there is a warm, inviting space for you in the McKim Building at Boston Public Library. Every space is a nod to the finer elements of life—art, history and philosophy. Celebrate the end of the year and welcome a new one in a location that encourages relaxation and enjoyment.
With its barrel-arched ceilings, oak bookcases and green reading lights, Bates Hall is the place to have inspiring conversations with your guests. Join us for a holiday seated dinner or cocktail party of the century!
CLICK HERE TO PLAN YOUR HOLIDAY EVENT AT BOSTON PUBLIC LIBRARY

If you are on the quest for a holiday party venue in Cambridge, we invite you to explore the glorious halls and enchanted spaces found within Harvard Art Museums. This location provides the perfect opportunity for you to have yourself a medieval Christmas.
Our award-winning catering team would be delighted to plan a holiday event that spreads real joy among everyone. Whether you are imagining a winter wonderland or candy cane lane, we will provide you with the decor, custom menu, seasonal drinks any other special details that are tailored to your event.

Calderwood Courtyard at the Harvard Art Museums
The Calderwood Courtyard, the heart of Harvard Art Museums, will fill your guests with wonder that makes the holidays worth celebrating. The four-level Italian-inspired facility has plenty of elegant space to enjoy a gourmet meal with friends and family, partners and peers. In between dinner, decadent passed hors d'oeuvres and signature cocktails, your guests can explore incredible exhibitions featuring some of the finest art from around the world. See a virtual tour of the spaces here. 
EXPLORE OUR SPECIAL HOLIDAY MENU

9OFS
Located in the heart of Boston's Financial District, 9OFS is a hidden gem surrounded by mesmerizing urban views. Guests might even get front row seats to a show of twinkling lights wrapped around one of the many skyscrapers. The contemporary masterpiece offers a polished setting for some of your favorite wintertime memories.

Cyclorama
The iconic skylight and dome ceiling of the Cyclorama at Boston Center for the Arts will provide a unique holiday experience for you and your guests. The architecturally impressive facility makes for some incredible photos and even better memories. With white walls, brick floors and surrounding artistic works, you can transform this imaginative environment to fit your specific holiday vision. Not to mention that this holiday party venue comes with the highest-quality catering options in Boston.

House of Blues
Not many people have seen a holiday at the House of Blues Boston, and we have to say, this is a lively space to do so. With its top-tier lighting and sound capabilities, custom menus and mixology, the expansive venue will take your season to the next level.

The Red Lion Inn and Barn in Cohasset
If you want to venture outside the city, there are so many incredible holiday party venues in the Boston area that will end in a merry time for everyone. Cohasset's Red Lion Inn features a large barn with a chandelier that is perfect for a warm and rustic celebration.
Looking for a waterfront venue? Cohasset Harbor Inn and Atlantica are both located on Cohasset Harbor and offer vast water views and multiple private dining spaces.
Create Your Own Venue
Want to create your own holiday at a venue outside this list? We would love to help you plan a stress-free party at your office or another location. Whatever you need to make your holiday enjoyable, we have a creative solution that will transform the way you celebrate.
The Catered Affair is one Boston's trusted catering and event companies with over 40 years of holiday planning experience. As an exclusive caterer of elite institutions like the Boston Public Library, Harvard Art Museums and ICA/Boston, we have the passion and expertise to provide the highest level of culinary and design excellence. If you are planning an upcoming holiday event, we would be honored to help you make it joyous! Let's get started!
 More Articles You Might Enjoy: