Boston natives Meghan Murray and Peter McAuliffe celebrated their dream wedding on September 4, 2022, at the iconic Boston Public Library. The black-tie affair proved timeless and elegant, creating a celebration as meaningful and cherished as their love story.  
Re-live their wedding planning journey and hear from talented professionals who brought their wedding day vision to life. Photography by Janelle Carmela Photography.
The Destination 
Meghan shares, "For the majority of Peter and my relationship, we have lived in Boston so we loved the idea of getting married in the city. The BPL is in the center of so many incredible sights and experiences. We were excited at this opportunity to host our friends and family from out of town and show them what Boston really has to offer.
As a Northeastern University alumni, I spent many finals periods studying for exams in Bates Hall. While I was in the thick of studying for nursing exams, I couldn't have ever imagined that I would be sitting in the same room at those tables with the green lamps on my wedding day.
The BPL is such an iconic landmark in Boston (and the country) so it is a venue that people dream of getting married in. It was so magical that this dream became a reality for us!"
The 'First Look'
The grand staircase provides an unforgettable moment in time for couples. Meghan shared, "Our first look was magical. We were starry-eyed and focused only on each other. It was so special! Peter awaited me at the top of the grand staircase, and when he turned around, we were both speechless, grinning from ear to ear. It still gives me chills! Although we have been together almost ten years, we had butterflies." To add to the grandeur, a pair of impressive marble lion statues add to the splendor of wedding photos on the grand staircase. 
The Wedding Planner 
The couple relied on the experience of Ashley Saffer of Ashley Elaine Events to plan their wedding. From venue selection and securing a team of top vendors to bringing alive the fine details, wedding planners work in unison with TCA Event Producers to achieve a seamless event. Meghan comments, "Experts have attended far more weddings than we ever have! When you first get engaged, it can feel like a sprint to get the 'best' venue, band, florist, and photographer…where do you start?" The answer is, hiring a reputable wedding planner early in the process is highly recommended.  
The Floral Designer
Molly Anne McGill, Owner + Creative Director of Fleur Events, a boutique design studio, shared, "We loved creating the design for this wedding. Meghan wanted classic ethereal florals with a touch of blue and a contemporary twist with plexiglass elements. The grand staircase anchored by lion statues is always our favorite challenge.  The scale is so massive and iconic, finding a way to adorn it that honors the historic architecture while always making it fresh and new. Using color is trending; we were excited to work with many gorgeous pallets." Paul Freitas worked effortlessly ensuring Meghan & Peter's floral vision was perfect.
The Catered Affair
Meghan Cook, Event Producer for The Catered Affair at Boston Public Library, worked with the couple for eleven months. Cook shares, "Each couple is unique, and I feel honored to learn about their love story and incorporate personal details into their wedding day. I loved how they moved guests throughout the building to experience many aspects of the venue. Meghan and Peter were the sweetest." Meghan and Peter noted, "The menu presentation was a work of art and flavor, perfectly reflecting the transition from summer to fall."  
Savor Meghan and Peter's wedding day menu below.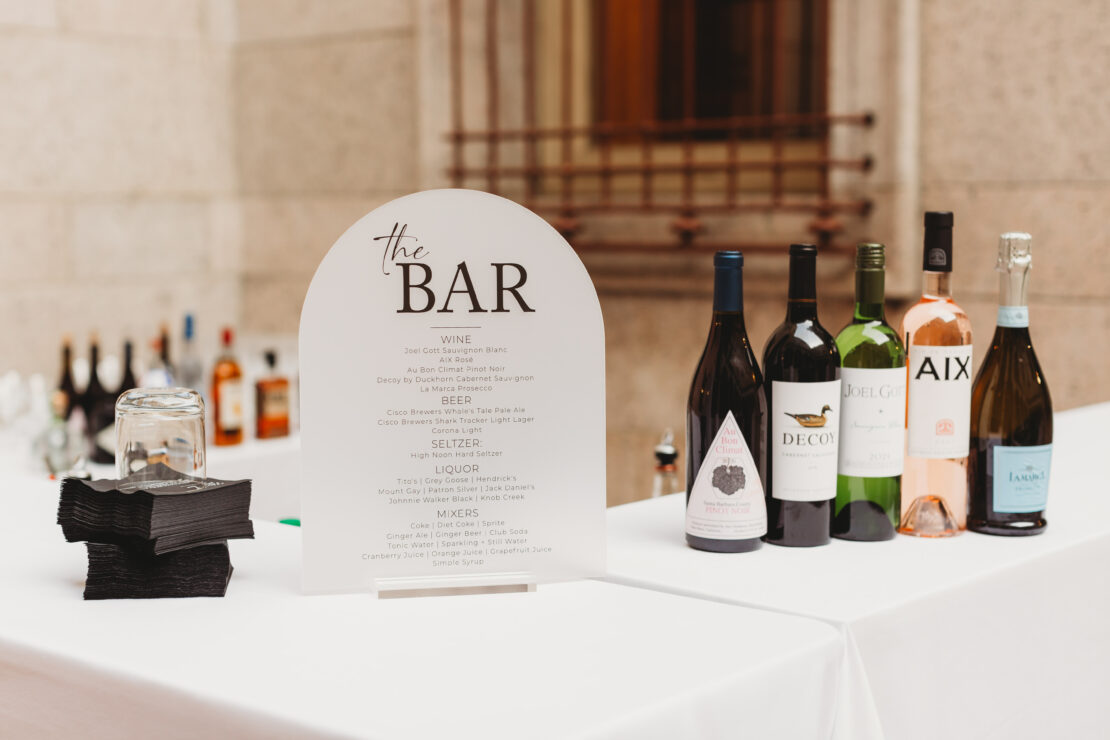 Cocktail Reception
Passed Hors d' oeuvre
Short Rib Sliders (Gluten-free)
Buffalo Cauliflower Tacos 
Truffled Mac N' Cheese Bites 
Lime Ginger Grilled Shrimp
Bacon-wrapped Diver scallops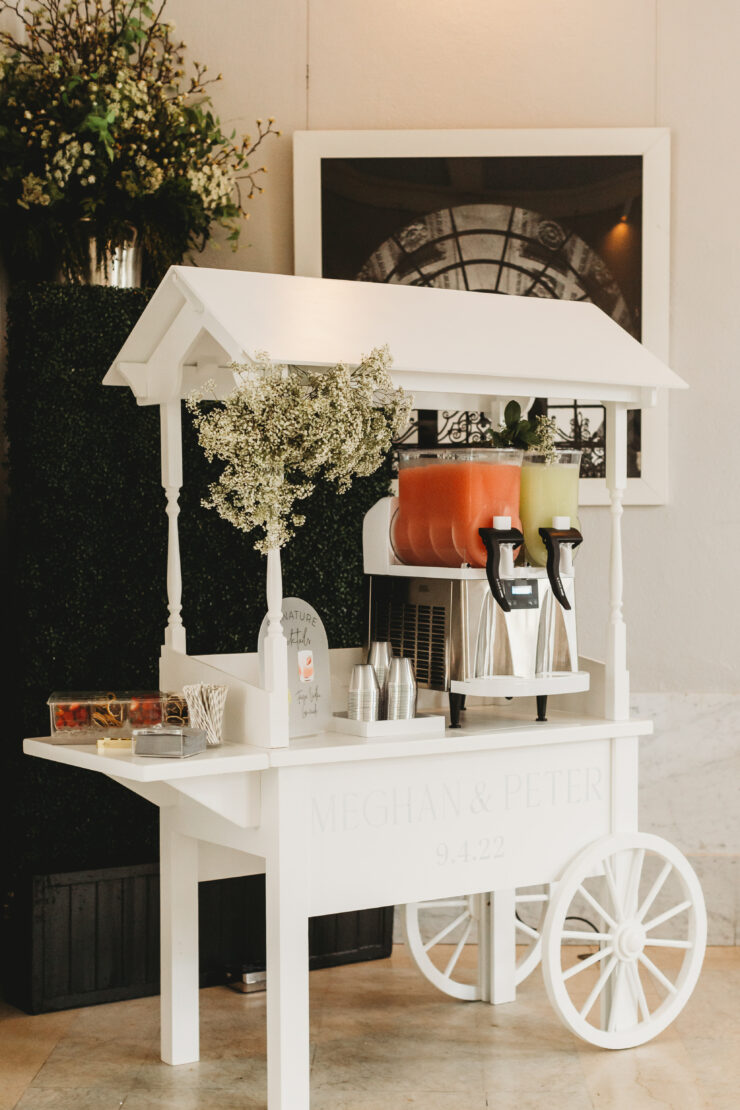 Trend alert! In addition to the fully stocked bar, Chic Party Carts offered guests Frosé and refreshing Frozen Vodka Lemonade.  
Dinner Service
First Course 
HEIRLOOM TOMATO + STONE FRUIT SALAD | goat cheese, prosciutto, basil + mint, grilled focaccia, white balsamic vinaigrette

Entrée 
Guests' pre-selected choice: 
PAN ROASTED BRANZINO | peas, roasted sungold tomatoes, asparagus, pistachio-garlic crumble.
DRY AGED BEEF SIRLOIN | ash-roasted potato, grilled native corn, haricots verts, oven-cured tomatoes, gorgonzola butter, red wine jus
WILD MUSHROOM RISOTTO | oyster + king trumpet mushrooms, charred carrots, shaved vegetable salad 
Wedding Cake
Three-Tier with smooth buttercream
CARAMEL MACCHIATO | vanilla pound cake, coffee-caramel buttercream, cocoa nibs 
Trend alert! Espresso Dave's specialty coffee drinks with personalized drink toppers were popular. 
After dark
A lively trumpet player led jovial dancing guests from dinner in Bates Hall to the after-party on the first floor of the McKim Building. The Catered Affair servers greeted partygoers with glow sticks and creamy espresso martinis. Meghan states, "We're so happy we decided to have the after-party in the Map Room Tea Lounge. The DJ and dance floor were illuminated in neon and blue lighting while fun snacks were passed, and bars remained open. It kept the energy going after the official reception." 
Late Night Snacks
Ball Park Pretzels, Yellow Mustard
Truffled Parmesan Tater Tots in Bamboo Cones
Mini Fenway Franks and Sweet Potato Fries 
Late Night Specialty Cocktail  
Espresso-tini | vanilla vodka, Kahlua, crème de cacao, espresso 
Enjoy more photos of the wedding!  
View this post on Instagram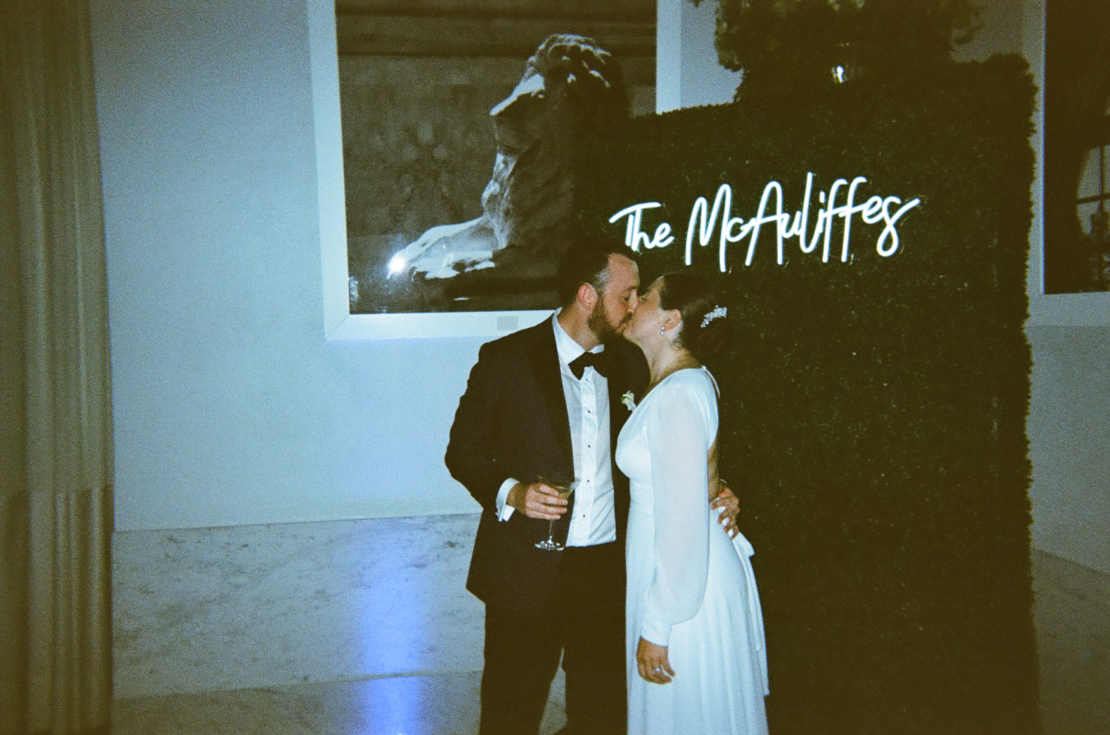 Thank you to Meghan and Peter McAuliffe for sharing the details of their wedding day!  
Vendor listing:
Venue: Boston Public Library
Catering: The Catered Affair
Photography: Janelle Carmela Photography
Planning & Design: Ashley Elaine Events
Florals: Fleur Events, Paul Freitas
Videography: Shutter & Sound
Entertainment: East Coast Soul
Beauty: Traveler Beauty Company
Frozen Cocktail Cart: Chic Party Carts
Bridal Stylist: The Boston Bridal Stylist
Coffee Cart: Espresso Dave
Lighting: Boston Event Lighting
Stationary: Claire Mauke
Host Hotel: Fairmount Copley 
 Learn more about The Catered Affair and its commitment to excellence @thecateredaffair.