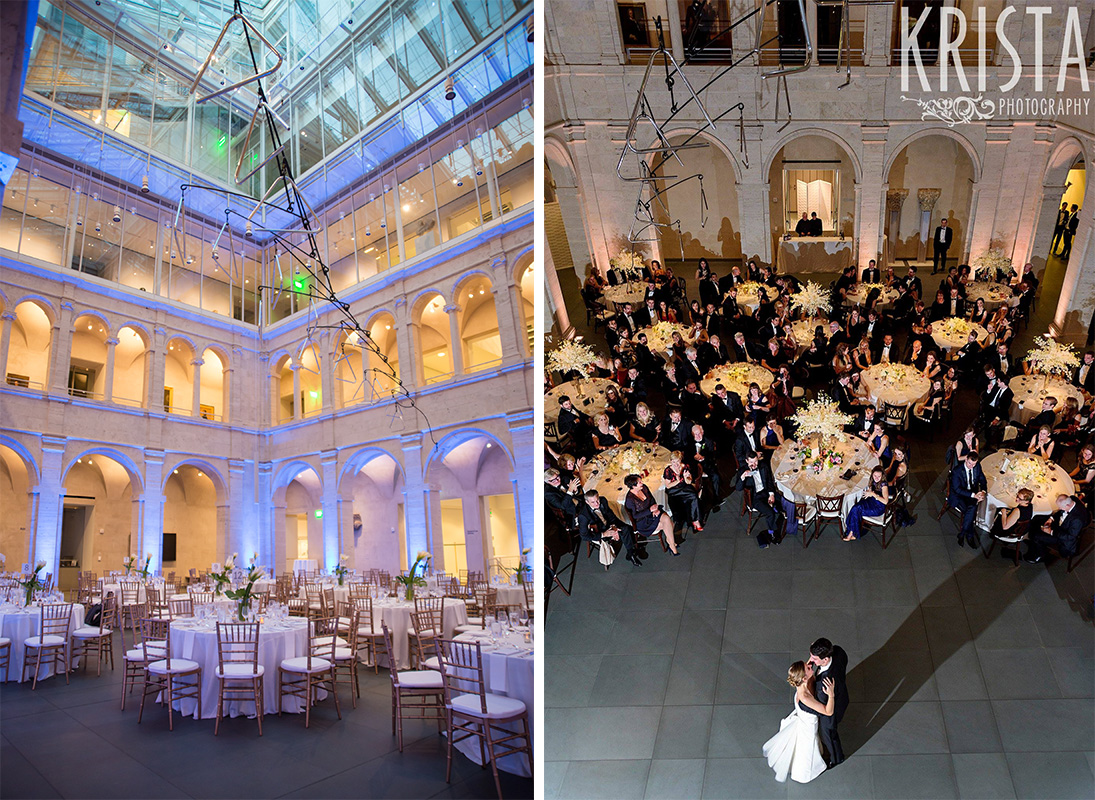 For couples hoping to exchange I do's outside of Boston, we adore this stunning wedding venue just steps away from Boston in Cambridge, the Harvard Art Museums. With an elegant yet versatile courtyard, breathtaking hall, and central location to Harvard Square, it's the perfect venue for a couple with ties to Cambridge or enchanted by the history and charm the neighborhood has to offer. Whether you're looking to plan your summer wedding in Cambridge or just host a summer wedding in a unique wedding venue, the Calderwood Courtyard offers a stunning back drop for your big day.
Host your reception in the heart of the Harvard Art Museums in the Calderwood Courtyard and celebrate where both art and romance blossom. One of our favorite things about the courtyard is the sensation of being fully surrounded by the majesty of the museum and its collections with three levels of galleries that surrounded you.  The indoor courtyard offers you and your guests a unique view of all five levels of the museum, including levels that contain the labs of the Straus Center for Conversation and Technical Studies above, a dramatic high ceiling and glass roof above.
For the art focused bride or groom, the courtyard is a venue unlike any other. After hours, the museum can be transformed with just a few small touches like lighting accents of soft pinks or blues or elevated into a grandeur celebration with high floral arrangements, vibrant linen, and bold centerpieces that reflect personal style. Dine on artfully plated cuisine by The Catered Affair and when dinner is done, stroll through the galleries if you would like to include them in your wedding experience, or simply invite your guests to peer into the galleries from the courtyard to see famous works of art. . Finally, you and your guests can wind down for the evening in the courtyard, with dancing, passed desserts, or fun and festive stations.
For an elevated evening, the Calderwood Courtyard is the perfect place for your wedding reception! Learn more about the courtyard here and museum's exhibitions here and call us to book your wedding today.