On Sunday, October 14, 2018, Rickie and Jeremy welcomed 170 friends and family members for a traditional Jewish ceremony and reception at the Harvard Art Museums. The iconic space, with its 15th-century Italian-inspired architecture, was the perfect space for the eager couple. Rickie, an art history major, felt a deep connection to the renowned building and its artistic works.
The lovely bride, who is a Harvard graduate, came to us with a clear vision about her big day—a cocktail-infused strolling dinner. She articulated an experience that would encourage art exploration, movement and discussion between cherished loved ones.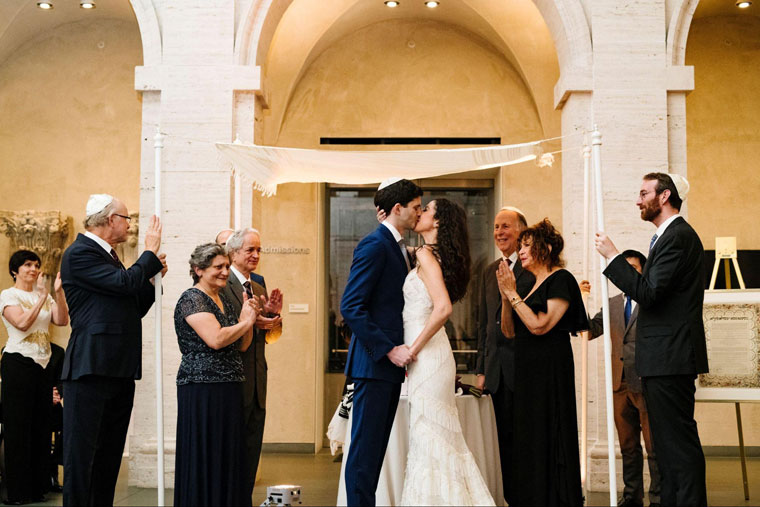 A symbolic and deeply intimate ceremony
Rickie envisioned the Harvard Art Museums' Calderwood Courtyard dressed in ivory and greens, and our team created a setting that provided a light and natural tone
To stay within the budget they set for themselves, the couple decided to indulge on the menu and keep the décor simple. Given the space, this decision worked exceptionally. The courtyard stands as the focal point of the museums. Guests often marvel over the structure's iconic arches, glass ceiling and views of the museums' galleries.
A signed and framed ketubah was arranged next to a small table with ceremony pieces. Four Chuppah (bridal canopy) holders arranged themselves in the center of the room in preparation for the bride and groom's entrance. They each proceeded down the aisle to traditional Jewish music. During the ceremony, the bride and groom also performed the traditional circling custom, a process that symbolizes the creation of a new home and the intertwining of the lives of both partners.
Traditional dishes with creative flair
The reception also took place in the elegant Calderwood Courtyard. After a moving ceremony, guests were treated to a strolling dinner with passed hors d'oeuvres, small plates and stations. By not having a formal seated dinner, guests were able to enjoy each other's company and dance the night away! As Harvard Art Museums' caterer, we wanted to capture the traditional theme and add an inventive touch. For example, the couple discussed a Middle Eastern-style station that went beyond hummus and tabbouleh. This allowed our culinary team to explore many interesting flavors to create unique stations and passed items with a creative twist.
Guests mingled and enjoyed a plethora of flavorful and creative menu items:
Passed Hors d'Oeuvres
Blue Cheese Popovers, Beef and Horseradish Cream
Short Rib Sliders, Truffle Fondue and Arugula
Korean Beef Tacos, Kimchi, Lime Crema and Sriracha
Mini Steak Frites
Seven Layer Smoked Salmon Bites, Citrus Crème Fraîche, Caviar
Asparagus and Goat Cheese Vols-au-vent
Truffled Wild Mushrooms in Roasted Potato Boxes
All Beef Pigs in a Blanket with Dijon Mustard (a favorite of the mother of the bride!)
Passed Small Plates
Butternut Squash Gnocchi
Burratini Bowl
Burratini with Grilled Bread, Oven Cured Tomatoes, Fairytale Eggplant, Pine Nuts, Basil Olive Oil, Balsamic Vinaigrette
Each station featured exciting ingredients and spices. Our culinary team excels at providing delicious creations and beautifully presented displays guests will remember.
Mezze Station
Lamb Kofta, Grilled Oregano Chicken
Lemon Garlic Yogurt, Whipped Feta with Sweet & Hot Peppers
Farro & Spinach Salad with Roasted Vegetables, Feta, Toasted Pine Nuts
Curried Israeli Couscous with Carrots, Cauliflower and Almonds
Roasted Brussels Sprouts with Pistachio Tahini, Crispy Quinoa, Radishes & Ginger
Warm Naan & Rustic Breads
Small Plates Station
Seared Salmon & Chicory-Lacquered Beef Short Ribs
Roasted Heirloom Carrots, Sunchokes & Butternut Squash
Charred Radicchio
Parsnip Puree
Wild Mushroom Barley Risotto
Finally, guests enjoyed the following delectable desserts:
Mini Milkshakes with Freshly Baked Cookies
Apple Crisp Jar Pies
Chocolate Truffles rolled in Cocoa Powder
Rickie and Jeremy's wedding was a joyous occasion that guests were delighted to attend. Aside from the beautiful customs, delicious food and elegant details, days like these remind us of the essential relationships we create over our lifetimes. Everyone who experienced this special day could testify to the vibrant emotions that filled the entire courtyard. It was a truly memorable wedding and a profound experience.
The Catered Affair was honored to provide the catering and creative planning for such a special occasion. C-Zone Entertainment certainly helped to liven up the mood. Ashley O'Dell Photography captured all of the couple's most intimate moments and historic elegance of such a highly photogenic location. Finally, Winston Flowers was on-site to coordinate the lovely floral arrangements that brought the memorable experience to life.
Are you thinking about planning your wedding or event at Harvard Art Museums? We would love to hear about it! Contact us or call us at 781.763.1333.
More articles you might enjoy: