Boston, the heart of Massachusetts, offers incredible experiences you simply cannot find anywhere else. Visitors and locals alike often find themselves intrigued by the nuances that every neighborhood has in store for them. In traveling from locations like Seaport to Cambridge, you realize that there is magic and history around every corner, and there is a unique experience to share in many different settings. Whether you are attending a wedding or event or simply visiting, here are some ways to get the full Boston experience while you are here. 

Seaport
In journeying through Boston, it is essential that you stop by the Seaport. Over the years, the Seaport has seen an explosion of growth. This thriving area, recently dubbed the "innovation district," features a variety of contemporary architecture, well-maintained parks, eclectic restaurants and boutiques, and is quickly developing a reputation for drawing in young professionals from across the country. 
It is hard not to be inspired by the Seaport's lively energy. Whether you are participating in outdoor yoga, visiting one of numerous seaside restaurants or marveling over playful public art installations—like one of Okuda San Miguel's pieces—you will not be disappointed by the sights and experiences you find here.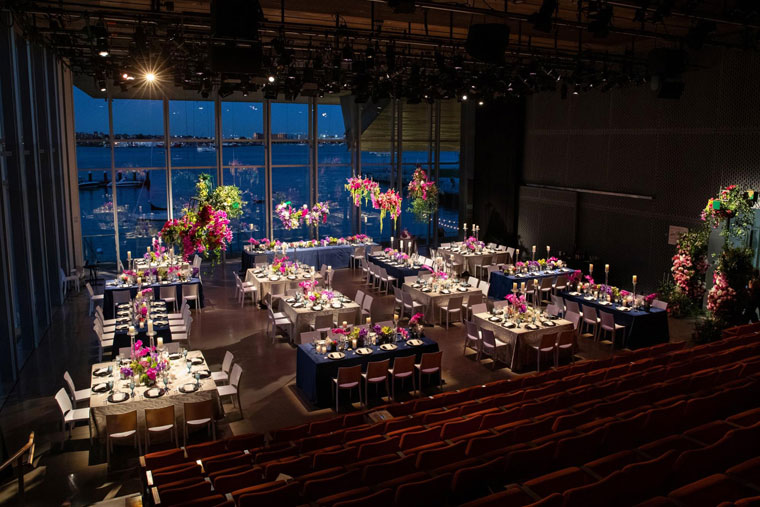 The Seaport has seen a lot of revitalization projects over the years, making it one of the most desirable event locations in Boston. Modern waterfront spaces like the incredible Institute of Contemporary Art/Boston serve as the backdrop of many receptions, conferences and wedding celebrations. Guests of any special event can certainly appreciate the Boston Harbor views over a glass of wine at ICA/Boston's SunBar.

Financial District
Located in the downtown area near Government Center and Chinatown, the Financial District features some of Boston's oldest landmarks. It is home to the Old South Meeting House, the famous meeting site that led to the Boston Tea Party. 
The Financial District offers an upscale experience that draws in many visitors. It bursts with the bustle of professionals and is surrounded by banks and sleek condos. Not to mention, it is located next to all the attractions Boston is especially known for, like the Freedom Trail and the New England Aquarium.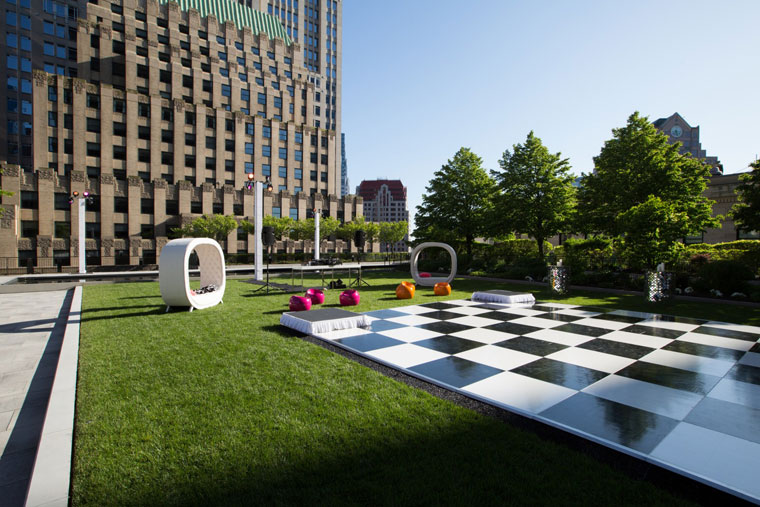 This neighborhood is a prime spot for countless meetings, conferences and other private events. There are many unique, multi-purpose locations to escape to for a celebratory dinner or happy hour. Spaces like 9OFS give event attendees a sophisticated indoor setting and front row seats to sparkling city views. 9OFS is located on the 9th floor of a high rise and is nestled in the heart of Boston, minutes away from public transit, hotels and favorite Boston attractions.

Back Bay 
Whether you are in Boston for a wedding or conference or are simply passing through, Back Bay is a unique place to experience—on your own or with a group of people. When people think of Back Bay, they think of Newbury Street's upscale shopping or iconic Victorian brownstone homes. It also encompasses cultural giants like the Boston Symphony Hall and is home to Trinity Church and Boston's tallest skyscraper, the John Hancock Tower. 
Let us not forget about celebrated cultural institutions like the Boston Public Library, a historic treasure and an unparalleled setting for holiday parties, corporate gatherings, weddings and other special occasions. 
Back Bay is a top destination spot that draws in everyone from out-of-towners to students to wealthy families, largely because it allows quick access to everything.

Cambridge
Cambridge is the birthplace of world-class universities like Harvard and MIT. It offers a wealth of American history that cannot be overlooked. This is where you will find the famous yellow house, Longfellow House, home of the 19th-century poet Henry Wadsworth Longfellow and former headquarters to George Washington. 
Aside from its historic significance, Cambridge is known for its charming squares full of shops, restaurants, bookstores, cafes, theaters and museums. It is no wonder why it is the perfect location to host street fairs and festivals that draw in people from all over the world. 
Cambridge is home to one of the largest and most well-known art collections in the United States. Harvard Art Museums is not only a must-see attraction, but it is also a world-class stage for elegant seated dinners, holiday parties and many other memorable affairs. It offers the perfect blend of contemporary and classic settings—any event here will leave your guests in awe. 
South End
Just minutes away from Back Bay, the South End is known for its vibrant modern art and architecture and youthful energy blended with the historic charm embodied in the line of Victorian brownstone buildings along Tremont Street, Columbus Avenue and Massachusetts Avenue. Romantic restaurants, lively pubs, fun and funky shops, tree-lined cobblestone streets—the South End is worth the exploration. 
It is also home to the iconic Cyclorama, one of Boston's most unique artistic institutions and the stage of hundreds of Boston's most innovative events, from galas to holiday parties to art fairs. The Cyclorama's grand stature, stunning architecture and 360-degree views has breathed meaning into many event experiences. 
Planning a Visit to Boston?
Though there are plenty more neighborhoods to explore across Boston, it is important to note that all of the aforementioned ones offer a fundamental understanding that one must experience during their stay in Boston. 
Are you planning an important event in Boston? We are award-winning event professionals who have helped people create once-in-a-lifetime experiences at some of Boston's most highly regarded locations. If you are in need of more insight on Boston's neighborhoods or have questions about an upcoming event, reach out to us.